Counting Stars

(OneRepublic)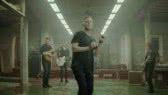 click image to open video page

4:44
Video page URL
Description
"Counting Stars" is a song by American pop rock band OneRepublic from their third studio album, Native (2013). The song was written by lead singer Ryan Tedder, and produced by Tedder and Noel Zancanella. It was released as the album's third single on June 14, 2013 in Austria, Germany, and Switzerland.

The song has reached great international success, marking one of the band's more successful singles in recent years.

The song's accompanying music video, directed by James Lees, features the band performing in a basement beneath an ongoing church congregation.
Transcript
Lately I've been, I've been losing sleep
Dreaming about the things that we could be
But baby I've been, I've been praying hard
Said no more counting dollars
We'll be counting stars
Yeah, we'll be counting stars

I see this life
Like a swinging vine
Swing my heart across the line
In my face's flashing sun
Seek it out and you shall find
Old, but I'm not that old
Young, but I'm not that bold
And I don't think the world is sold
I'm just doing what we're told
I feel something so right
But doing the wrong thing
I feel something so wrong
But doing the right thing
I could lie, could lie, could lie
Everything that kills me makes me feel alive

Lately I've been, I've been losing sleep
Dreaming about the things that we could be
But baby I've been, I've been praying hard
Said no more counting dollars
We'll be counting stars

Lately I've been, I've been losing sleep
Dreaming about the things that we could be
Baby I've been, I've been praying hard
Said no more counting dollars
We'll be, we'll be counting stars

I feel the love
And I feel it burn
Down this river every turn
Hope is a four letter word
Take that money
Watch it burn
Old, but I'm not that old
Young, but I'm not that bold
And I don't think the world is sold
I'm just doing what we're told
And I feel something so wrong
But doing the right thing
I could lie, could lie, could lie
Everything that drowns me makes me wanna fly

Lately I've been, I've been losing sleep
Dreaming about the things that we could be
But baby I've been, I've been praying hard
Said no more counting dollars
We'll be counting stars

Lately I've been, I've been losing sleep
Dreaming about the things that we could be
Baby I've been, I've been praying hard
Said no more counting dollars
We'll be, we'll be counting stars

Take that money and watch it burn
Sink in the river the lessons I learned
Take that money and watch it burn
Sink in the river the lessons I learned
Take that money and watch it burn
Sink in the river the lessons I learned
Take that money and watch it burn
Sink in the river the lessons I learned
Everything that kills me makes me feel alive

Lately I've been, I've been losing sleep
Dreaming about the things that we could be
But baby I've been, I've been praying hard
Said no more counting dollars
We'll be counting stars

Lately I've been, I've been losing sleep
Dreaming about the things that we could be
Baby I've been, I've been praying hard
Said no more counting dollars
We'll be, we'll be counting stars

Take that money and watch it burn
Sink in the river the lessons I learned
Take that money and watch it burn
Sink in the river the lessons I learned
Take that money and watch it burn
Sink in the river the lessons I learned
Take that money and watch it burn
Sink in the river the lessons I learned