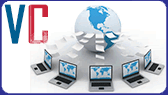 Virtual Classroom
The M-E Virtual Classroom lets teachers create a convenient environment for teachers and students to work online. First of all, watch this video tutorial:
BASICS
(short simple version)
ADVANCED
(all features & how to create video pages and activities if you want)
You can read instructions to create one here.
The M-E Virtual Classroom (VC) allows a teacher to create groups and fill them with students by providing them with a key. That key will be unique to every teacher. Students simply have to insert that key into their VC, then choose a group, and voilá, they are in!
These are the things that teachers can do through their VC:
1- Set assignments
2- Have a class chat
3- Monitor students' work
4- Provide links for students
5- Share folders with any kind of files
6- Contact their students via internal mail
7- Send mail alerts to student's home mail account
8- Have a noticeboard to leave a message to all their students
9- Upload videos and create activities and excercises for their students

Students and teachers can access their Virtual Classroom from their user's menu and also by clicking on the VC logo they will find on the bottom-right part of the header from any page on the site.
1- SET ASSIGNMENTS
Teachers can handpick the videos and activities they want their students to work with. When a teacher with a VC is looged in, a special icon will appear on the right hand-side corner of all video pages:

By clicking on this icon the page will be added to their students homework list: videos, activities and grammar sheets. You will also find this icon on your user's menu to send independent assignments (text, links, etc). Assignments have a colour code, so you can classify them (for example, for the exam, for revision, just for fun, etc.). Students can mark or unmark assignments to keep record of what they have finished and what they still have to do.
2- HAVE A CLASS CHAT
There will be a chat room for every group of yours where students can chat. You can also watch and participate in every one of those chats. This will let students communicate with all the class at the same time, share things and practise the language.
3- MONITOR YOUR STUDENTS' WORK
All the activity deployed by students is registered in their user's log. Teachers have access to all their students' logs and so can check the progress of their work. They can control what videos students' are working with, how long they have worked with them, what activities and exercises they have made and what results they got in their activities. Teachers also have a list with the total time their students have spent working on the website. This list can be filtered by any time range and also printed, so if a teacher chooses to, he or she can give marks for their students' work at home.
4- PROVIDE LINKS
Many teachers have a blog or a group on Facebook to work with their students, or they want their students to work with some recommended sites in particular. M-E's VC allows teachers to integrate those pages into this VC so they are all just one click away and students can easily navigate from M-E to the other pages.
5- SHARE FOLDERS
Having a shared folder is really convenient for teachers since they can easily send all sorts of files to their students: docs, pps, mp3, etc. M-E does not provide a hosting space of its own, but offers the possibility of creating a shared folder with some of the leading providers of this service and then paste the link into your VC so students can access your shared folder without having to come and go. You can choose any provider you want (if you don't have any already) but we recommend these, which are probably the best free providers (they all use click-and-drop technology to make sharing easy as pie):
DropBox, the original (https://www.dropbox.com/). Just register on that website for free, download the programme and install it into your computer. You will get a brief set of instructions on usage, but it's really simple to use and totally intuitive. They offer 2 GB of storage free. If you need more you can try Google Drive:

Google Drive ( https://drive.google.com/ ): It stores up to 5 Gb and accepts any file size up to 1 Gb. If you install the free software on your computer you can create folders and subfolders and easily share them with your students just by dropping files onto the folders. You can get a link for the shared folder and put it in your VC. Your students will see the link to your folder in their own VC and they will be able to access all your shared files by clicking on the link there. You can also create forms for your students and receive the data they insert there, or create your own docs, spreadsheets, etc. right on the cloud instead of using Microsoft Office on your computer. You can watch to know how Google Drive works. For instructions on how to create a shared folder for your M-E classwoorm using Google Drive click here.
Other similar services: Copy, the most simple (https://www.copy.com/), SkyDrive, Microsoft's (http://skydrive.live.com/) or also a new one, very simple and now getting fashionable: Cubby (https://www.cubby.com/).

6- INTERNAL MAIL
The VC includes an internal mail service. Teachers can send mails to all their students or just to one group in particular, or just to one student. Students can reply to their teacher's mails and also send mails to other class-mates (to communicate with all the class they have the chat room). But the beauty of this service is that no one needs to give their private e-mail address, all the mailing goes from one user account to another and no address is needed, so nobody must worry about others knowing their e-mail (unless they give it away, of course).
7- SEND MAIL ALERTS
If teachers need to communicate something urgently (for example to say they are ill and will not go to class the following day), they can send an alert to a group or to all students. This alert will be sent straight to the students' personal e-mail account (gmail, hotmail, yahoo, etc.), but it will be sent via Multimedia-English, so teachers do not need to know the real e-mail from their students, and students will not be able to see their teacher's mail address or reply to this message. This way the student's and the teacher's privacy is not broken in any way, while allowing contact when needed.
8- NOTICEBOARD
Teachers and students who are into a VC have a noticeboard on their user's menu. Anything teachers write there will be instantly visible to all their students the moment they enter their personal menu.
9- CREATE VIDEOS AND ACTIVITIES
You do not need to be in a VC to create videos and activities, but if you have a VC you can create video pages uploading a specific video you want to work with, and then add it to your students' assignment list, so they can work with it. You can also create activities for your students and share with them in the same way. This way you do not have to stick to what M-E offers, but you can also create your own material for your students and also benefit the rest of users the same as you can benefit from other teachers' work on this site too.
---
10- PHONETIC TRANSCRIPTIONS
Although this is not part of the VC, but accessible to all users, you must know that M-E provides you with a box to create phonetic transcriptions quickly and easily. You can copy and paste those transcriptions in any document with text format (for example MS Word). To open the transcription box go to the top menu you will find on M-E header, go to the last option (+) and choose "Transcription box". You can also open it clicking here. And if you are a webmaster you can include this phonetic box into your website with this url:
http://www.multimedia-english.com/transcription-box.