Always #LikeAGirl

(Always)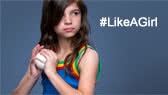 click image to open video page

3:18
Video page URL
Description
Transcript
<< WHAT DOES IT MEAN TO DO SOMETHING "LIKE A GIRL"? >>

Hi Erin!
Hi!
Okay, so I'm just going to just give you some actions to do, and just do the first thing that comes to mind. Show me what it looks like to "Run like a girl."
My hair, Oh God…
Show me what it looks like to fight like a girl.
Now throw like a girl.
Awww…

<< WE ASKED YOUNG GIRLS THE SAME QUESTION >>
My name is Dakota, and I'm ten years old.
Show me what it looks like to run like a girl.
Throw like a girl.
Fight like a girl.
What does it mean to you when I say run like a girl?
It means run (as) fast as you can.

<< WHEN DID DOING SOMETHING "LIKE A GIRL" BECOME AN INSULT? >>
So do you think you just insulted your sister?
No, I mean, yeah… insulted girls, but not my sister.
Is "Like A Girl" a good thing?
(I) actually don't know what it really… if it's a bad thing or a good thing. It sounds like a bad thing. It sounds like you're trying to humiliate someone.

<< A GIRL'S CONFIDENCE PLUMMETS DURING PUBERTY Always WANTS TO CHANGE THAT. >>
So when they're in that vulnerable time, between ten and twelve… how do you think it affects them when somebody uses "like a girl" as an insult?
I think it definitely drops their self-confidence and really puts them down, because during that time they're already trying to figure themselves out. And when somebody says, "You hit like a girl" it's like… Well, what does that mean? Cause they think they're a strong person. It's kind of like telling them that they're weak, and they're not as good as them.
And what advice do you have to young girls who are told they run like a girl, kick like a girl… hit like a girl… swim like a girl….
Keep doing it, cause it's working. If somebody else says that running like a girl, or kicking like a girl, or shooting like a girl… is something that you shouldn't be doing, that's their problem because if you're still scoring, and you're still getting to the ball in time, and you're still being first. You're doing it right. It doesn't matter what they say. I mean, yes! I kick like a girl, and I swim like a girl, and I walk like a girl, and I wake up in the morning like a girl… Because I am a girl. And that is not something that I should be ashamed of, so I'm going to do it anyway.
That's what they should do.
If I asked you to run like a girl now would you do it differently?
I would run like myself.
Would you like a chance to redo it?
Yeah.


Why can't "run like a girl" also mean win the race?
Meaning
Using #LikeAGirl as an insult is a hard knock against any adolescent girl. And since the rest of puberty's really no picnic either, it's easy to see what a huge impact it can have on a girl's self-confidence.

We're kicking off an epic battle to make sure that girls everywhere keep their confidence throughout puberty and beyond, and making a start by showing them that doing it #LikeAGirl is an awesome thing.

"In my work as a documentarian, I have witnessed the confidence crisis among girls and the negative impact of stereotypes first-hand," said Lauren Greenfield, filmmaker and director of the #LikeAGirl video. "When the words 'like a girl' are used to mean something bad, it is profoundly disempowering. I am proud to partner with Always to shed light on how this simple phrase can have a significant and long-lasting impact on girls and women. I am excited to be a part of the movement to redefine 'like a girl' into a positive affirmation".
P&G also released some new stats around the campaign from its Always Puberty & Confidence Wave II Study. According to that study, 76 percent of women and 59 percent of men ages 16-24 said the video changed their perception of the phrase "like a girl." Also, 81 percent of women said the video can change the way people think about the stereotypes surrounding women's physical abilities.