Daily English Conversation | Lesson 21 to 25

(FukEnk)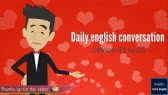 click image to open video page

5:17
Video page URL
Description
Learning English conversation for beginner level lesson | Lesson 21-25
▶ Link this video: https://youtu.be/XHoZqQEsZeM
▶ Link playlist: Learning English conversation: http://goo.gl/uQJ38a
▶ Content:
▶ Link playlist: Learning English conversation level 1: http://goo.gl/uQJ38a☞ Thanks for watching! If you want more, tell me by comment below this video♥
☞ Please share and like if you enjoyed the video :) thanks so much ♥

───────────────────
▶ Please subscribe to update new videos.
Subscribe To Update New Lesson: http://goo.gl/ewZPB1
Transcript
▶ Lesson 21: THE SUPERMARKET IS CLOSED
Jeff, I'm going to the supermarket. Do you want to come with me?
I think the supermarket is closed now.
Oh, when does it close?
It closes at 7:00 on Sundays.
That's too bad.
Don't worry, we can go tomorrow morning. It opens at 8:00.
Alright. What do you want to do now?
Let's take a walk for a half an hour. My sister will get here at about 8:30 PM and then we can all go out to dinner.
Where does she live?
She lives in San Francisco.
How long has she lived there?
I think she's lived there for about 10 years.
That's a long time. Where did she live before that?
San Diego.
▶ Lesson 22: DO YOU HAVE ANY CHILDREN?
Nami, do you have any children?
Yes.
How many children do you have?
I have two kids. A boy and a girl.
What are their names?
Jack and Stephanie.
How old are they?
Stephanie is 18 and Jack is 24.
Are they in school?
Stephanie is. She goes to college in Washington and Jack works in Florida.
What does Stephanie study?
She studies English.
Is she here now?
No, she's at school.
▶ Lesson 23: HELP WITH PRONUNCIATION
William, do you like studying English?
I like studying English, and I can read well, but speaking can be difficult.
It's not that bad. If you talk to your American friends every day, you'll learn quickly.
Can I ask you a question?
Sure, what do you want to know?
I have my book from class here. How do you say this word?
Laptop
Sorry, I don't understand. What does that mean?
A laptop is a type of computer that you can carry with you. Do you understand?
Yes, I think so. Can you say it again?
'Laptop'.
'Laptop'. Did I pronounce that correctly?
Yes, that's right. That's very good.
Thanks. And this word? How do you pronounce this?
That word is pronounced 'kitchen'.
Thanks so much. You're a good teacher.
Thanks.
▶ Lesson 24: I LOST MY WALLET
Hey, how's it going?
Not good. I lost my wallet.
Oh, that's too bad. Was it stolen?
No, I think it came out of my pocket when I was in the taxi.
Is there anything I can do?
Can I borrow some money?
Sure, how much do you need?
About 50 dollars.
That's no problem.
Thanks. I'll pay you back on Friday.
That'll be fine. Here you are.
What are you going to do now?
I'm going to buy some books and then I'm going to the gas station.
If you wait a minute I can go with you.
OK. I'll wait for you.
▶ Lesson 25: PHONE CALL AT WORK
Hello?
Hi, is Nami there please?
Yes. Who's calling?
Adam
One moment please.
OK.
Hello?
Hi nami, it's adam.
Hi adam.
What are you doing now?
I'm working.
Are you busy?
Yes. It's been really busy here all day.
What time do you get off work?
8:30PM
I'll call you back after 8:30 PM
OK. Talk to you later.
Bye.