Frankenstein and Mary Shelley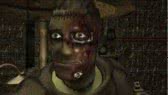 click image to open video page

4:55
Video page URL
Description
The classic Mary Shelley story of Frankenstein in animation form. This first in a series of 4 introduces the genesis of the book and the key scene from the movie where the monster is brought to life by the student Victor Frankenstein.

A new series I am creating for students of ESL and or literature, introducing classic stories in a short machinima movie. They will mostly consist of key scenes from the book put into movie form and will occasionally introduce the author and the process which leads to the creation of the story.
Transcript
It is the year 1815 and this is Mount Tambora in Indonesia. It is far away from Europe but it has a direct connection to the story I am about to tell. The story of Mary Shelley and her book Frankenstein.

Because of the violent eruption of Mount Tambora, the world was locked in a long cold volcanic winter in 1816 that came to be known as the 'Year Without Summer'. At that time the young Mary Godwin together with her future husband, Percy Bysshe Shelley, step sister Claire Clairmont and a doctor John Polidori were staying with Lord Byron, the famous poet, at his villa near lake Geneva in Switzerland. As Mary recorded in her journal, "It proved a wet, ungenial summer with incessant rain often confining us for days to the house." Because of this a lot of time was spent indoors and there were long candle lit evenings reading German ghost stories and conversing about life and its origins, including the possibility of reanimation.

One weekend the group of friends decided they should all try to write a horror story. For many days Mary had no ideas then one night she had a terrifying dream. She wrote in her journal, "I shut my eyes but did not sleep. I saw a pale student kneeling beside the thing he had put together. The hideous phantasm of a man stretched out on a table. Then on the working of some powerful engine the monster stirred to life.

I could not rid myself of the image of that terrible creature. It haunted my thoughts throughout the night, ……and then I had the idea – what terrifies me will terrify others."

Mary began writing Frankenstein soon after. It started off as a short story, but with Percy Shelley's encouragement became a full novel published two years later in 1818.

One other legendary horror tale emerged from that time at Lake Geneva. John Polidari published 'The Vampyre' in 1819,….but that is another story.