6-I) Wh- words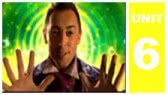 click image to open video page

0:52
Video page URL
Description
These words are also called: "interrogative words" or "question words", because we use them to make questions.
Floop Song! This is a song from the movie "Spy Kids 2".
Transcript
Who?
What?
When?
Where?

Who? What? When? Where? and Why?

I delight in
What do I intend to find this time?
Run around!
Jumping down!
Bounce and bound and
Find another way to duck and hide
This isle of dreams.
Hello?... yes... one moment, please.... CUT!!!
Who is it, again?
Ah, Juni Cortez! What can I do (for you?)
Explanations
Wh- words

These words are also called: "interrogative words" or "question words", because we use them to make questions:

WHO? - for people
Who are you? - I'm Tom
WHAT? - for things
What is that? - That's a dog
WHICH? - for things (in an election)
Which ball do you want? - I want the red one
WHERE? - for places
Where do you live? - I live in London
WHEN? - for times
When do you go to school? - I go to school on Mondays
WHY? - for reasons
Why do you like this? - Because it's very nice
HOW? - for methods, ways
How do you like your beer? - I like it cold