A new gaming concept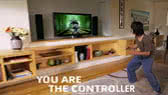 click image to open video page

3:40
Video page URL
Description
Computer games for the 21st century. Gaming like you've never felt before!
Transcript
INTRODUCING A NEW WAY TO PLAY
NO CONTROLLER REQUIRED

- So, you've come back for more, Ian
- Yup, let's do it!
- Ha ha ha. This should be good. Let's begin!

YOU ARE THE CONTROLLER

- The tyres are toast, go to the pit.
- Alright, I'm going in.
- Hey, I'm ready.
FUN WAYS TO PLAY TOGETHER
- Ok. Go, go, go, go!

USE YOUR WHOLE BODY

- Almost got it, almost got it.

I have to tell you something, baby. You can't recreate a final like you've seen in this championship.

FULL BODY MOTION CAPTURE
She sets it up.
Goal!
- Yes!

USE YOUR OWN GEAR
- Scan.
- Play.

FACIAL RECOGNITION

- Hook up with Sarah
- Hey, so did you get a dress for the party yet?
CONNECT AND SHARE
- No
- Oh my Gosh, it's in a week! Here, you have to see the one I found for you. That's the one.
- I love it.
- You should get it. Do you like...

For 500 points, what is the answer?... Ian Dixen.
- Millard Fillmore.
VOICE RECOGNITION
Millard Fillmore, is..... correct!
Now a 200-point follow-up question for the Beckett family. How many push-ups can Chuck Norris do?

CONTROLLER FREE ENTERTAINMENT

- Play movie.

THE ONLY EXPERIENCE YOU NEED IS LIFE EXPERIENCE

- Good-night.
Explanations
CONTROLLER= A remote control device used to play video games.

REQUIRED= (formal) needed.

YUP= (coll.) Yes.

TYRES= (AmE tires) The outer black gum part of a vehicle wheel (see picture)

TOAST= (coll) If something is toast, it's terminated, used up, destroyed, it ceased functioning. If the tyres are toast they are worn out and you need to change them because they are not safe anymore.

PIT= An area by the racing track where you can stop your car and make repairs.

GO, GO, GO!= A usual way of encouraging someone to do something.

WHOLE= Complete, entire.
- All your body = Your whole body
- All my family = My whole family

ALMOST GOT IT= You almost made it, you have almost got what you want.

SET IT UP= (sports) To get into the correct position to start a race or shoot the ball, etc. She sets it up refers to the position of the ball.

GEAR= /gɪə*/ Equipment (tools or clothes used for a particular activity).
HOOK UP WITH= (coll.) meet with someone (esp. a friend)

OH MY GOSH= (coll.) A nicer way to say "Oh my god" (using the word "God" for exclamations is considered a bit rude).

FOLLOW UP= A follow-up question or activity is an extra question or activity to expand the main one.

PUSH-UPS= An muscling exercise where you lie flat and push your body up by flexing your arms up (see picture).

CONTROLLER FREE= With no controller.