An introduction to Britain

(This is Britain)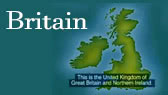 click image to open video page

4:44
Video page URL
Description
This video gives you a brief insight into British life and culture. It contains subtitles.
Transcript
Hello. I'm Leonie Dodd, and welcome to Window on Britain.

What do you know about Britain? How many people live here? What's the capital city? What are the names of other famous cities? The answers are in this programme.

This is the United Kingdom of Great Britain and Northern Ireland. That means England, Scotland, Wales and Northern Ireland.

The population of Britain is over 58 million. 49 million people live in England. 5 million live in Scotland, about 3 million in Wales and one and a half million in Northern Ireland. Seven million people living in London, the capital city.

The Prime Minister lives here, at 10 Downing Street, near the Houses of Parliament.

The head of state is the queen. The Queen's Head is on banknotes, stamps and coins. In London she lives here in Buckingham Palace, a very popular place for tourists.

Other famous towns and cities in Britain are:
Edinburgh, the capital of Scotland, with its old castle.
York, with its beautiful cathedral, called York Minster, and its narrow streets.
Stratford-upon-Avon, the birthplace of William Shakespeare.
Liverpool, once a very important port and the home of The Beatles.
Cambridge...
and Oxford, both famous for their universities. And famous for their bicycles. In both cities a lot of people travel around by bike.

Towns and cities are important, but the countryside's important too. Over 75 percent of the land in Britain is farm land, but not many people are farmers. In fact only two percent of the working population.

Britain also has 10 national parks. They cover 9 percent of the land. All these parks have wonderful countryside. This is the Lake District, in the northwest of England. I has beautiful hills and lakes. A lot of British people come here on holiday and foreign tourists. Over 24 million foreign tourists come to Britain every year. They visit lots of places, for example the Giant's Causeway in Northern Ireland.

This is Stonehenge. What is it? Well, nobody really knows. Perhaps it's a temple, or o'clock, or is it a calendar?

In Wales, the Snowdon National Park is very popular. And look, Welsh people don't just speak English. About 20 percent of the population speaks Welsh too.

Britain is an Island, but it isn't only one island. In fact there are over 800. These ones are on the beautiful west coast of Scotland.

I'm at Waterloo station, in London. From here, trains go through the Channel Tunnel to Paris, in France, and to Brussels, in Belgium. Is Britain really an island now?