Bible Verses for kids on God's Love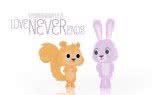 click image to open video page

3:11
Video page URL
Description
Some Bible verses about God's love cited and explained for children on this cute video.
Transcript
1 Corinthians 13:8 "Love never ends"

- Even when I slurrrrp my chocolate milk and it is gone gone and even though a fun day stops at bedtime, LOVE NEVER STOPS! It keeps going and going and going. Woohooooo!!!! I love LOVE!

2. Romans 8:39 "Nothing now, nothing in the future, no powers, nothing above us or nothing below us—nothing in the whole created world—will ever be able to separate us from the love of God"

-That means sneaky ninjas could try, really fast horses could try and super tough lions could try but nothing can EVER take God's love away from us. WHAT???? That is strong LOVE!!!

3. JOHN 3:16 "For God loved the world so much that he gave his one and only Son, so that everyone who believes in him will not perish but have eternal life."

- Wow, our God loves everyone in the whole world so much that He made His son Jesus like a ginormous flashlight so that anyone who stays close to Him can always be protected from the dark. Ohhhhh! Now THAT makes me feel safe!

4. Zephaniah 3:17 "With His love, he will calm all your fears."

- If you are afraid of being alone at night then Gods love is like furry little puppy that will snuggle you to sleep.

5. "We love because He first loved us." 1 John 4:19

-That's like saying God gave us a treasure box filled with lots and lots of love so then we could open it up and share it with other people. Yeeeahh! Now that's cool.

6. Psalm 36:5 "Your unfailing love, O Lord, is as vast as the heavens"

- You know what that means right? His love for us is bigger than...a dinosaur! That's HUGE!
Yes, Jesus loves me
Yes, Jesus loves me
Yes, Jesus loves me
The Bible tells me so!

Yes, Jesus loves me
Yes, Jesus loves me
Yes, Jesus loves me
The Bible tells me so!