Daily Activities Lesson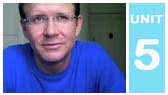 click image to open video page

3:45
Video page URL
Description
Another lesson on daily routine. Explaining your everyday activities to practice conversation, grammar, vocabulary, writing, pronunciation, listening and verb tenses.
Activity
Listen carefully to Michael's daily routine
[video from minute 0.45 to 2.10]
Make a list of his daily activities using the list below. Check the answers under the KEY tab.
---
WHAT DO YOU USUALLY DO EVERY DAY?
7am-
after breakfast-
9.00-12.00-
12.00-
afternoon-
after work-
after dinner-
11.00/12.00-
Key
7am- wake up, take a shower, get dressed, have breakfast

after breakfast- leave the house, go to work (by car)

9.00-12.00- work

12.00- have lunch

afternoon- work until 5-6

after work- go home, prepare/have dinner

after dinner- watch TV, read a book, watch a movie, relax, study English

11.00/12.00- go to bed