How Animals Eat Their Food

(MisterEpicMann)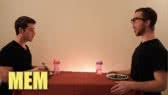 click image to open video page

1:25
Video page URL
Description
Learn some vocabulary about animals and have fun :D.
---
Hello. My name is Nick. But you probably know me as Misterepicmann. Or Shirley. But that's a story for another time. I joined YouTube back in 2009 with no real expectations other than to be myself on camera. Right now I am pursuing a degree in cinematic arts at college and I certainly hope to use that knowledge to make movies one day (Spitting water at my roommate and riding a broom around the room doesn't count...lolz). I currently own a company called Lost Light Films which is my primary focus after school and I hope I can merge my efforts into that company once school is completed...if I actually pass.
Transcript
Wanna see how animals eat their food? Watch closely.
Cow
Alligator
Lizard
Tyrannosaurus Rex
Whale
Groundhog
Kangaroo
Flamingo
Rhinoceros
Explanations