How Often? - Adverbs of frequency

(Alex)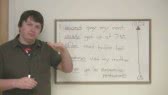 click image to open video page

5:06
Video page URL
Description
Most common frequency adverbs: Always, usually, ofgten, sometimes, never.
Explanations
Adverb is a word used to describe or MODIFY verbs (actions), adjectives and other adverbs.
There are 5 different kinds of adverbs:
1. Manner
2. Frequency
3. Degree
4. Time
5. Place
Frequency adverbs describe or modify answering the question word How often?
Frequency Adverbs:
100% always
usually
often
50% (+/-) sometimes
seldom
rarely
0% never