How To Make Friends

(MisterEpicMann)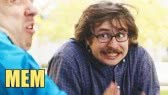 click image to open video page

3:14
Video page URL
Description
Making friends is not always easy, but here are some tips you can try if you find someone you want to be friends with.
---
Hello. My name is Nick. But you probably know me as Misterepicmann. Or Shirley. But that's a story for another time. I joined YouTube back in 2009 with no real expectations other than to be myself on camera. Right now I am pursuing a degree in cinematic arts at college and I certainly hope to use that knowledge to make movies one day (Spitting water at my roommate and riding a broom around the room doesn't count...lolz). I currently own a company called Lost Light Films which is my primary focus after school and I hope I can merge my efforts into that company once school is completed...if I actually pass.
Transcript
Hey
Do you wanna be my friend?
Eeeh, aaah, me?... No, I don't wanna be your friend.
Ok.

HOW TO MAKE FRIENDS

#1 Be Aggressive

#2 Give Them Space
Do you wanna be my friend?
No
How about now?
No

#3 Be Agreeable
Hey, do you like sports?
Yeah
I love sports too, it's ama(zing). Hey, do you like football?
Yeah
Oh, I love football, I love it. Do you like baseball?
Not really
I hate it, I hate baseball. Oy, where do you live?
Nowhere near here
I live nowhere near here as well. We have so much in common.
No, we don't
Yeah, we're so... No, we don't, I agree, we don't.

#4 Never Leave Their Side
What?
Now we're friends forever
No, no. No, no, don't do that. No, no! Ha ha ha ha, yeah!

#5 Make a Commitment
Your turn
Really?
Blood brothers
No

#6 Try a Note
/Do you want to be friends -Yes, -Super Yes!/

When All Else Fails... Knit a Sweater
Can you put your arm up, please?
It's a friendship sweater and I ended it just for you.
That's the sweetest thing anyone's ever done for me. Oh, thank you so much. I had a horrible day.

Good Job!
Explanations
WANNA= (coll.) Want to.
AGREEABLE= Nice.
AMAZING= Fantastic, great.
AS WELL= Too; Also.
LEAVE THEIR SIDE= If you leave somebody's side, you go away from them.
COMMITMENT= When you agree to an obligation that restricts your freedom in exchange of something more valuable, for example, when you get married or you become a parent.
BLOOD BROTHERS= Blood /blʌd/ is the red liquid that flows inside your body. Blood brothers are brothers by birth, or two people who vow mutual friendship and respect through a ceremony in which they both cut a finger or palm and mix their bloods to seal their new strong friendship.
KNIT= To make a fabric or garment by knitting (see picture)
SWEETEST= The most adorable and nice.
GOOD JOB!= A pharse you use when you want to praise someone and congratulate them for doing something well.