I Know

(Tom Odell)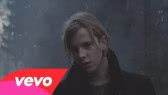 click image to open video page

3:56
Video page URL
Description
Tom Peter Odell is a British singer-songwriter.Odell was born in Chichester. At the age of eighteen, Odell abandoned plans to attend the University of York and attempted to gain a place at a music college in Liverpool.
He appeared at open-mic events nightly: "It was full of humiliation: dragging a keyboard round, turning up to find out I'd been taken off the bill, gangs of lads grabbing the mic off me and laughing ... I learnt to perform and learnt what songs work."
After a year, he moved back to Chichester after being made redundant from his job as a barman. Using his grandmother's car, he travelled regularly to London to play shows and to put advertisements in music schools. He then moved to London to play as part of the band Tom and the Tides. However, he later decided to become a solo artist because he "didn't want to have to rely on people".
Transcript
Cold house, white light
Yellow lamps on blackened skies
Duffel hoods and deep brown eyes
I sing you a song that I think you'll like

And we'll walk to places we always go
A million faces I don't know
I say the words you'd always hope
Set our hearts on racing even though...

I know what you told me
I know that it's all over
And I know I can't keep calling
Every time I run (yeah)
I keep on falling on you
I know what you told me
I know that it's all over
And I know I can't keep calling
Just every time I run (yeah)
I keep on falling on you

On the way you stand, on the way you sway
The way your hair curls in the rain
The little lines write your face
So do winter nights you'd come and stay

Or the way you hit me when you wanna fight
The way i yearn, the way i cry
The way i love rose with the tides
But we know we'll make up every time

I know what you told me
I know that it's all over
And I know I can't keep calling
Every time I run (yeah)
I keep on falling on you
I know what you told me
I know that it's all over
And I know I can't keep calling
Just every time I run (yeah)
I keep on falling on you

Oh you bring me all the things I need
I follow the rain to the rolling sea
I love you baby all the things I lay

I know what you told me
I know that it's all over
And I know I can't keep calling
Just every time I run
I keep on falling
I know what you told me
I know that it's all over
And I know I can't keep calling
Just every time I run
I keep on falling

And I know what you told me
I know that it's all over
And I know I can't keep calling
Every time I run, yeah
I keep on falling

I know what you told me
I know that it's all over
And I know I can't keep calling
Just every time I run, yeah
I keep on falling on you