King Herod's song

(Jesus Christ Superstar)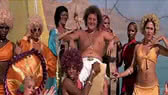 click image to open video page

3:15
Video page URL
Description
Here is a modern and almost shocking adaptaion of the episode of Jesus before King Herod, though the general idea is basically the same.
When Jesus was arrested he was sent to the High Priest Caiaphas, who sent him to the Roman justice because the Jews could not sentence anyone to death, so he is sent to Pilate. Since Jesus is not a citizen of Judea but of Galilee, Pilate sends him to Herod, who is king of Galilee (by Roman concession) and is in Jerusalem at that moment for the festival of the Passover. So Jesus goes before King Herod and stays silent, and this is what this song is narrating (in a very modern way). Herod, in turn, will send Jesus back to Pilate, who will finally sentence him to death.
From the musical movie "Jesus Christ Superstar" (1973)
Transcript
Jesus, I am overjoyed to meet you face to face.
You've been getting quite a name all around the place.
Healing cripples, raising from the dead.
Now I understand you're God,
At least, that's what you've said.

So, you are the Christ, you're the great Jesus Christ.
Prove to me that you're divine; change my water into wine.
That's all you need do, then I'll know it's all true.
Come on, King of the Jews.

Jesus, you just won't believe the hit you've made around here.
You are all we talk about, you're the wonder of the year.
Oh what a pity if it's all a lie.
Still, I'm sure that you can rock the cynics if you tried.

So if you are the Christ, you're the great Jesus Christ.
Prove to me that you're no fool; walk across my swimming pool.
If you do that for me, then I'll let you go free.
Come on, King of the Jews.

I only ask what I'd ask any superstar.
What is it that you have got that puts you where you are.
I am waiting, yes I'm a captive fan.
I'm dying to be shown that you are not just any man.

So, if you are the Christ, yes the great Jesus Christ
Feed my household with this bread.
You can do it on your head.

Or has something gone wrong. Jesus, why do you take so long?
Oh come on, King of the Jews.
Hey! Aren't you scared of me Christ?
Mr. Wonderful Christ?
You're a joke. You're not the Lord.
You are nothing but a fraud.

Take him away.
He's got nothing to say!
Get out you King of the,
Get out King of the,
Oh get out you King of the Jews!
Get out of here! You, you...
Get out of here you!
Get out of my life.