Nativity (2010)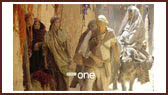 click image to open video page

0:40
Video page URL
Description
Tatiana Maslany and Andrew Buchan star as Mary and Joseph in Tony Jordan's adaptation of The Nativity for BBC One this Christmas.
Transcript
- How old is your younger daughter?
- Mary? She's just turned 16.
- I love you.
- Haven't we always believed this moment would come?
- Hello Mary, my name is Gabriel. You have been chosen.
- You're saying that a messenger came from God and told you that you'd bear a son.
- Yes.
- Joseph, please don't hate me.
- Please, we're looking for a room.
The Christmas story retold in four parts.
- Look!
Nativity. On BBC1 and BBC1 HD
Explanations
SHE'S JUST TURNED 16= If you turn an age, you become one year older. So if you turn 16, you were 15 and now you become 16.
"Have" + "just" expresses recent past, something that happened a short time ago, so Mary's birthday was probably just a few days ago when her father says this.

HELLO MARY= This is the modern English translation of the traditional salutation "Hail Mary" that the angel Gabriel used to greet Mary when he appeared to her to announce her that she would have a son from God.

MESSENGER= This is the English translation of the Greek word "angel".

BEAR= To bear a baby is to give birth to a baby.

NATIVITY= Christmas. This word comes from Latin "Nativitas", which literally means "birth". In English, when we say "Nativity" we refer to the birth of Jesus.
HD= High Definition (BBC1 HD is a digital channel from the BBC)