Present Simple - WH- QUESTIONS

(Alex)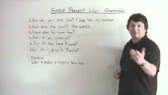 click image to open video page

6:30
Video page URL
Description
Correct pattern WH-(question words) answer questions.
Explanations
In present simple, we use the AUXILIARY verb TO DO in order to make interrogative sentences (questions) and negative sentences. Every time we use ANY AUXILIARY VERB, the MAIN VERB goes in the BASE FORM (that is, we DO NOT conjugate it).

To do:

SINGULAR THIRD PERSON = DOES

he - does
she - does
it - does

WH- INTERROGATIVE SENTENCES PATTERN:

QUESTION WORD + AUXILIARY + SUBJECT + MAIN VERB (remember in base form) + COMPLEMENT + ? (it can have a complement or not)

Example:

Where does she go to English class?
She goes to English clases in Tecnologico's Language Center.
(the answer has to be a complete sentence or a phrase, in colloquial English)

What do Ann and Trisha dance at parties?
They dance reggaeton at parties.