Sherlock Holmes - Learn English - English Jokes

(Linguaspectrum)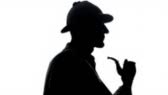 click image to open video page

7:40
Video page URL
Description
Learn dozens of new words and expressions in English and have a good laugh at the same time.
Sherlock Holmes is the greatest detective that ever existed. Nowhere in the universe would you find another who shares his singular ability to deduce the truth. And there's his friend Dr. Watson. This joke centres on Watson's attempt to out-deduce Holmes himself.

I'm sure Sir Arthur Conan Doyle would have approved of this English lesson.