Streets Of Philadelphia

(Bruce Springsteen)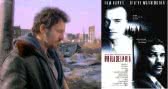 click image to open video page

2:58
Video page URL
Description
Bruce Frederick Joseph Springsteen (born September 23, 1949) is an American singer-songwriter and musician best known for his work with the E Street Band. Nicknamed "The Boss", Springsteen is widely known for his brand of heartland rock, poetic lyrics, Americana sentiments centered on his native New Jersey and his lengthy and energetic stage performances, with concerts from the 1970s to the present decade running up to an uninterrupted 250 minutes in length.

Springsteen's recordings have included both commercially accessible rock albums and more somber folk-oriented works. His most successful studio albums, Born in the U.S.A. and Born to Run, showcase a talent for finding grandeur in the struggles of daily American life; he has sold more than 65 million albums in the United States and more than 120 million worldwide and he has earned numerous awards for his work, including 20 Grammy Awards, two Golden Globes and an Academy Award as well as being inducted into the Rock and Roll Hall of Fame in 1999. In 2004, Rolling Stone ranked him as the 23rd Greatest Artist of all time, the 96th Greatest Guitarist of all time on their latest list and the 36th Greatest Singer of all time in 2008.
Transcript
I was bruised and battered,
I couldn't tell what I felt.
I was unrecognizable to myself.
I saw my reflection in a window,
I didn't know my own face.
Oh brother are you gonna leave me wastin' away
On the Streets of Philadelphia.

I walked the avenue,
'til my legs felt like stone,
I heard the voices of friends vanished and gone,
At night I could hear the blood in my veins,
Black and whispering as the rain,
On the Streets of Philadelphia.

Ain't no angel gonna greet me.
It's just you and I my friend.
My clothes don't fit me no more,
I walked a thousand miles
Just to slip this skin.

The night has fallen, I'm lyin' awake,
I can feel myself fading away,
So receive me brother with your faithless kiss,
Or will we leave each other alone like this
On the Streets of Philadelphia.
Explanations
BRUISED= To bruise /bru:z/ is to hurt, to injure, to offend (someone's feelings) by an insult, unkindness,etc.
BATTERED= /bætəd/ Subjected to persistent physical violence.
'TIL= Until
FADING AWAY= To lose freshness, vigour,youth. To vanish, to decrease the brightness or volume (on TV). He is very tired.
FAITHLESS= Unfair, disloyal, untrue, false.
Meaning
"Streets of Philadelphia" is an Academy Award-winning song, written and performed by American rock musician Bruce Springsteen for the film Philadelphia (1993), an early mainstream film dealing with HIV/AIDS. Released in 1994, the song was a hit in many countries, particularly Canada, France, Germany, Ireland and Norway, where it topped the singles charts.
.

The song was a critical triumph and went on to win the Academy Award for Best Original Song and four Grammy Awards, including Song of the Year, Best Rock Song, Best Rock Vocal Performance, Solo, and Best Song Written Specifically for a Motion Picture or Television.