Thank a Teacher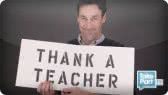 click image to open video page

1:17
Video page URL
Description
Great teachers shape who we are today.
Transcript
If you can read this, thank a teacher.

I am who I am.
I am who I am.
I am who I am.
I am who I am because I had a great teacher.

A great teacher is a work of art.
A great teacher is a key to success.
A great teacher can change a life.
A great teacher changed my life.

Linda Bowie.
Hunter Frost.
Mr. Isaacson.
Mr. Cone.

I learned that I didn't need to be like everybody else.
I learned that everything is possible.
I learned not to sweat the small stuff.
I learned that you can approach knowledge with a sense of wonder and fun.
I didn't learn how to speak Spanish even though she was my Spanish teacher, but I did learn how to be myself.

Mr. Isaacson, it's been a long time but thank you.
Emily Darcy Lakesmith, thank you very much.
Thank you, Hunter Frost.
Mr. Quest, I thank you.
Charlotte Pace, thank you.
To each and every one of my teachers, thank you.

Thank a teacher today

Muchas gracias Señora Flower. Te amo.
Explanations
NOT TO SWEAT THE SMALL STUFF= (coll.) Not to worry about unimportant things. (STUFF= things)
APPROACH= Come, get closer.
WONDER= Big admiration and surprise.
TO EACH AND EVERY ONE OF...= A very emphatic form for: To every...
MUCHAS GRACIAS SEÑORA FLOWER. TE AMO= (Spanish) Thank you very much Mrs Flower. I love you.