The adventures of Tintin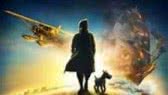 click image to open video page

1:13
Video page URL
Description
A new film by director Steven Spielberg. This time it features Tintin and his adventures: "The Secret of the Unicorn"
Transcript
I don't think you realize this, but you're about to walk into a whole mess of danger.

Look at this. The unicorn. what secrets do you hold?

How could you let them escape?

We can't turn back. Not now! Not now.