The Power of Words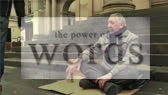 click image to open video page

1:47
Video page URL
Description
Sometimes it's not what you say, it's how you say it.
Transcript
[box message: I'm blind. Please help]

- What did you do to my sign?
- I wrote the same... but different words
- Thanks, love.

[new message: it's a beautiful day and I can't see it]

Change your words.
Change your world.
Explanations
LOVE= (BrE) a colloquial way to address a girl or a woman, even if you don't know her.