The Promise

(Tracy Chapman)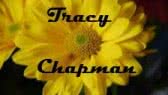 click image to open video page

5:25
Video page URL
Description
Tracy Chapman (born March, 1964) is an American singer-songwriter, best known for her singles "Fast Car", "Talking' 'bout a Revolution", "Baby Can I Hold You", "Give Me One Reason" and "Telling Stories". She is a multi-platinum and four-time Grammy Award-winning artist.

Tracy Chapman was born in Cleveland, Ohio, where she was raised by her mother. Despite not having much money, her mother recognized Tracy's love of music and bought her a ukulele at the age of three. Tracy Chapman began playing guitar and writing songs at the age of eight. Chapman was raised Baptist and went to an Episcopal high school. She was accepted into the program "A Better Chance", which helps minority students attend private schools. She graduated from Wooster School in Connecticut and subsequently attended Tufts University. She graduated with a B.A. degree in anthropology and African studies.

During college, Chapman began street-performing in Harvard Square and playing guitar in Club Passim and within other coffeehouses in Cambridge, Massachusetts. Another Tufts student, Brian Koppelman, heard Chapman playing and brought her to the attention of his father, Charles Koppelman. Koppelman, who ran SBK Publishing, signed Chapman in 1986. After Chapman graduated from Tufts in 1987, he helped her to sign a contract with Elektra Records

At Elektra, she released Tracy Chapman (1988). The album was critically acclaimed, and she began touring and building a fanbase. Soon after she performed it at the televised Nelson Mandela 70th Birthday Tribute concert in June 1988, Chapman's "Fast Car" began its rise on the US charts

"The Promise" is included in "New Beginning", the fourth album released in 1995. It included in "Collection", a greatest hits album released in 2001.
Transcript
If you wait for me
then I'll come for you
Although I've travelled far
I always hold a place for you in my heart

If you think of me
If you miss me once in a while
Then I'll return to you
I'll return and fill that space in your heart

Remembering
Your touch
Your kiss
Your warm embrace
I'll find my way back to you
If you'll be waiting

If you dream of me
Like I dream of you
In a place that's warm and dark
In a place where I can feel the beating of your heart

Remembering
Your touch
Your kiss
Your warm embrace
I'll find my way back to you
If you'll be waiting

I've longed for you
And I have desired
To see your face, your smile
To be with you wherever you are

Remembering
Your touch
Your kiss
Your warm embrace
I'll find my way back to you
Please say you'll be waiting

Together again
It would feel so good to be
In your arms
Where all my journeys end
If you can make a promise
If it's one that you can keep
I vow to come for you
If you wait for me

And say you'll hold
A place for me
In your heart
A place for me
In your heart
A place for me
In your heart