The Reader -New Bell's South Africa TV Advert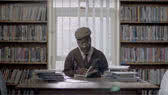 click image to open video page

2:01
Video page URL
Description
The new Bell's TV commercial features a father whose intrepid spirit demonstrates just what it takes to be a true Man of Character.
Transcript
Evening.
Evening.
May I ring that up for you?
Yes, please.
Have a good evening.
Repeat after me. A.
A.
B.
B.
And C.
C.
A B C D E F G.
No, no, no, no, no.
Not good. Not good.
Just the sounds that words make.
Cat. Dog.
Calamari.
Yeah.
Trash on the beach.
That's it!
Good, good, good.
Farm fresh.
My son and I mowed the grass.
That's the gold star!
Gold star.
Unbelievable!
Dad!
Hey, Thabs. I read your book.
You read my book?
Mmmmmm
Barman! Give that man a Bell's.
---

WRITTEN TEXT

Thabo Sithole
Rising Dust
Adult Literacy Class
When I pick up trash on the beach...
Kettle
Oven
Taps
JUNE
WASH
DECEMBER
HELLO SEXY
I LOVE YOU
Bell's
Extra Special Scotch