Victoria's Secret angels sing 'Jingle Bells'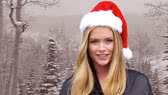 click image to open video page

1:10
Video page URL
Description
Yeah right, they don't sing really well but... who cares? :))
Merry Christmas to all the users of Multimedia-English
from Mike ;)
You can listen to the original Christmas carol here: Jingle Bells.
Transcript
Oh, jingle bells, jingle bells
Jingle all the way
Oh, what fun it is to ride
In a one horse open sleigh

(No, I'm gonna try, no, don't skip)

Dashing through the snow
In a one-horse open sleigh
O'er the fields we go
Laughing all the way
Bells on bob tails ring
Making spirits bright
What fun it is to laugh* and sing
A sleighing song tonight

Merry Christmas
Happy Hanukkah
Happy Kwanzaa
Happy Holiday
from everyone at Victoria's Secret

Sorry
Jingle Bells. We don't have that in Brazil.

------------
* it should be "ride" not "laugh"