What are you doing? I'm jumping - Easy Dialogue

(English Singsing)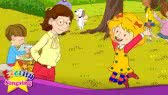 click image to open video page

3:07
Video page URL
Description
Practise the present continuous.
Transcript
It's a beautiful park!
Look at the sky and trees.
What are you doing, Jinsu?
I'm drawing trees.
Trees are good.
Yes. I like trees.

What are you doing, Sally?
I'm jumping.
Wow, you're jumping high.

Wow! A big fire!
Now, come to the fire, everyone!

What are they doing?
They are dancing.
They are good dancers.
That's right. Let's dance together.

Hahaha. What is she doing?
Hahaha.
Shhh! She is sleeping.