Christmas 2014 - Christmas 1914 World War II

(Sainsbury's)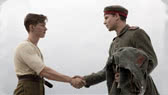 click image to open video page

3:40
Video page URL
Description
Transcript
[German parts marked in red]
Jenkins. Oakley. Knight.

(distant singing)
♪ Stille Nacht
- ♪ Heilige Nacht - ♪ Holy night
♪ All is calm
♪ All is bright
♪ Nur das traute hochheilige Paar
♪ Holy infant, so tender...
♪ ..im lockigen Haar
- ♪ Sleep in heavenly peace - ♪ ..in himmlischer Ruh
- ♪ Schlaf in himmlischer... - ♪ Sleep in heavenly...

Ein Brite kommt!
Ein Brite kommt!
Jim? Jim! No, don't do it!
Halt!
Er ist nicht bewaffnet.
Nein, Otto!

- My name is Jim. - Mein Name ist Otto.
- Pleased to meet you, Otto. - Freut mich.

Rose, she's called.
Um... Ist schön... Um...
- Schön. - (all shout)


Danke.

Happy Christmas.
Frohe Weihnachten.
Explanations
JENKINS. OAKLEY. KNIGHT= Just the three surnames of the soldiers to whom the letters are addressed.
HOLY= Saint.
CALM= /kɑ:m/ Quiet, in peace.
BRIGHT= Shining, filled with light (the light of God, who was born in flesh on Christmas Day)
INFANT= (formal) A child in the earliest period of life, especially before he or she can walk.
TENDER= Sweet, soft, cute.
HEAVENLY= Related to Heaven (to God)