Life is an adventure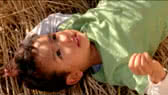 click image to open video page

1:02
Video page URL
Description
Consider your life a fascinating adventure. Just try.
Transcript
I want to live my life to the absolute fullest,

to open my eyes to be all I can be,

to travel roads not taken, to meet faces unknown,

to feel the wind, to touch the stars,

I promise to discover myself,

to stand tall with greatness,

to chase down and catch every dream

LIFE IS AN ADVENTURE.
Explanations
ABSOLUTE= Complete, total.

FULLEST= The sentence "to the full" means "to the highest degree", so "to the fullest" is an even more emphatic form. But if that is not enough, he says "to the absolute fullest". These super-emphatic forms are easy to find in advertising language.

ROADS NOT TAKEN= Experiences or decisions that nobody has explored before.

TO STAND TALL= To stand up in a very erect position (like a soldier). Also, to behave in a proud and confident way, to be self-confident and assertive (this is the meaning here).

CHASE= Persecute, go after (in order to catch).