The Legend of Zelda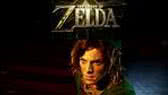 click image to open video page

2:46
Video page URL
Description
This famous video game now has a movie version. The plot centres on a boy named Link, the protagonist, who aims to rescue Princess Zelda from the primary antagonist, Ganon, by collecting the eight fragments of the Triforce, a powerful artefact. You can also watch a video from the cartoon version: Episode 1.
Transcript
I've got something special lined up for today. I'm taking the harvest to Castle Town Market, and you're coming with me. Now, mind your manners and do what I say. Speak to no one. And, for goodness' sake, don't touch anything.

- I've been waiting for you, Link. You've been kept safe, guarded by a secret race. But this very day, the kingdom of HyRule will fall. Nothing can stop the Evil which has crept inside these walls. I am too late. This is the Temple of Time. When these doors open again it will be seven years into the past. Find me again.

COURAGE
WISDOM
POWER

- I welcome the hero of Time.
- Hero of Time, face me!
Explanations
Note: the man speaking first has a Scottish accent, quite different from standard pronunciation.

LINED UP= prepared, in store

HARVEST= the produce from a field (wheat, maize, or whatever they grew there)

MIND= be careful with

YOUR MANNERS= the way you behave and speak

FOR GOODNESS' SAKE= an euphemistic way of saying "for God's sake". It is used to add force (emphasize) to a question or request.

LINK= the name of the hero

EVIL= wicked, bad, malign

TO DWELL= to live

WALLS= the stone walls surrounding a castle or a city.

7 YEARS INTO THE PAST= 7 years ago, 7 years back in time

COURAGE= (pronounced "kurij") the quality shown by someone who is brave and is not afraid of danger

WISDOM= the quality shown by someone who is wise (who knows a lot about life)

FACE ME= confront me, fight me