What do you feel when you hear that you have to work on your essay writing skills? Probably, you envision hours spent at your desk, staring into a blank sheet, trying to formulate some thoughts on the subject that you don't even want to think about.
But what if we told you that you could learn to write better essays practicing easily, without strain, and while doing something you like? For example, writing daily journal entries?
Now you're probably wondering how journaling can help you with essays. The thing is, writing, and essay writing, in particular, is a complex activity that involves several components. To craft good essays, you have to:
Have enough knowledge of the subject
Find enough evidence
Possess critical thinking and analytical skills
Be able to structure your thoughts logically
Have good language proficiency
All this may be overwhelming when you have a topic that you don't like. But writing is just a skill, and to hone it, you can practice it with any topic. What really matters here is consistency.
1. Helps to Engage In Writing on a Regular Basis
First and foremost, journaling helps one to develop a consistent writing practice. When you're not committed to a specific given topic and just write about anything you like, it's much easier to actually put pen to paper. In the beginning, you may be struggling with finding the right topics, but things will inevitably get easier with time, and the more you write – the better you do it!
2. Helps You Explore New Ideas
You may not even notice it, but there are lots of new ideas coming to your mind every day. If you don't bother to remember and develop them, they get lost.
When you have a journal, these ideas can be recorded and then developed or reflected upon. This is a very useful practice because just having an idea is not enough: you have to also be able to formulate it properly to convey it to other people.
3. Develops Analytical Skills
There are many types of journals, and not all of them involve reflection and/or analysis. But many of them do, and these are exactly the types that a student wanting to write better essays should favor.
For example, it can be useful to try to analyze in the form of a journal entry why your essays are not good enough and how, in your opinion, you can make them better. Or you can reflect on how you usually spend your time and if you need better time management. There are plenty of topics for such analytical entries when you start to think of them!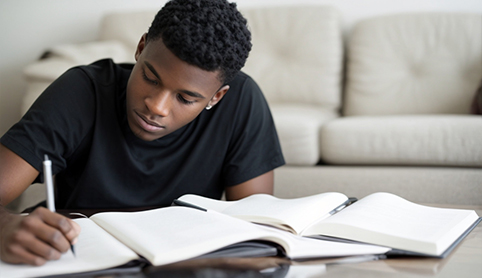 4. Helps Make Your Texts Logical and Structured
Of course, it's absolutely possible to write unstructured journal entries. There's nothing wrong with that, and professional writers often use these tactics to overcome writers' blocks and practice freewriting. If you suffer from a blank page syndrome, you can try this technique, too.
But generally, it's more beneficial for learning essay writing to create structured texts. And you'll eventually learn how to do this if you just try to convey your thoughts clearly and distinctly.
Here's a simple tip: leaf through your journal several days back and read a random page. Do you like your delivery? Is the idea clear? If the answer is always no, then maybe you need to work on your logical thinking, too.
5. Hones Language Skills
This is the most obvious effect of daily journaling: it improves your speech. The more journal entries you write, the more you master the language (no matter if native or foreign), and the better you get at expressing your thoughts with the right words.
But remember: with every entry, you need to push yourself a bit harder. Try to use synonyms, complex sentences, and various literary techniques that will make your texts colorful and engaging.
Conclusion
Essay writing is a complex activity that involves many processes and requires a lot of skills. There are some students who possess these skills naturally, but the majority of people have to learn a lot in order to write good essays.
If you're one of those, who need to sharpen their essay writing skills, try daily journaling. This occupation can help you write better in many ways and, therefore, improve your grades. But don't forget to be diligent and consistent! Otherwise, you can write off dozens of notebooks with zero effect.