We know that you are afraid to press the "check" button... And no, we are not talking about your bank account after an epic night out, though this is also quite a stress – we are talking about plagiarism checkers. To spare you the pain, we've prepared a list of best checkers with their strongest and weakest points, and some advice on how to use your plagiarism checker in clever and completely unexpected ways. 😏
---
Plagiarisma

http://plagiarisma.net/
This is a simple and quick check that doesn't require registration, however, you can use only a limited amount of functions. If you are running out of time and need a quick check just to calm down your "pre-submission anxiety," when you start thinking that your paper is bad and nothing can save you, this checker will definitely do its job. It also supports more than 190 languages, according to the website, but we were able to check only English, maybe you can try others. :)
Pros: It's free, you can check tests without sign-ups. The program highlights text parts which are not unique, also it supports 190+ languages. You can click on a phrase which was labelled as not unique and see articles.
Cons: you need to sign up for more functions. The program uses search via Google only if you sign up, otherwise, it uses Yahoo. Sometimes you need to wait, so it won't suit for checking 5 minutes before the submission deadline.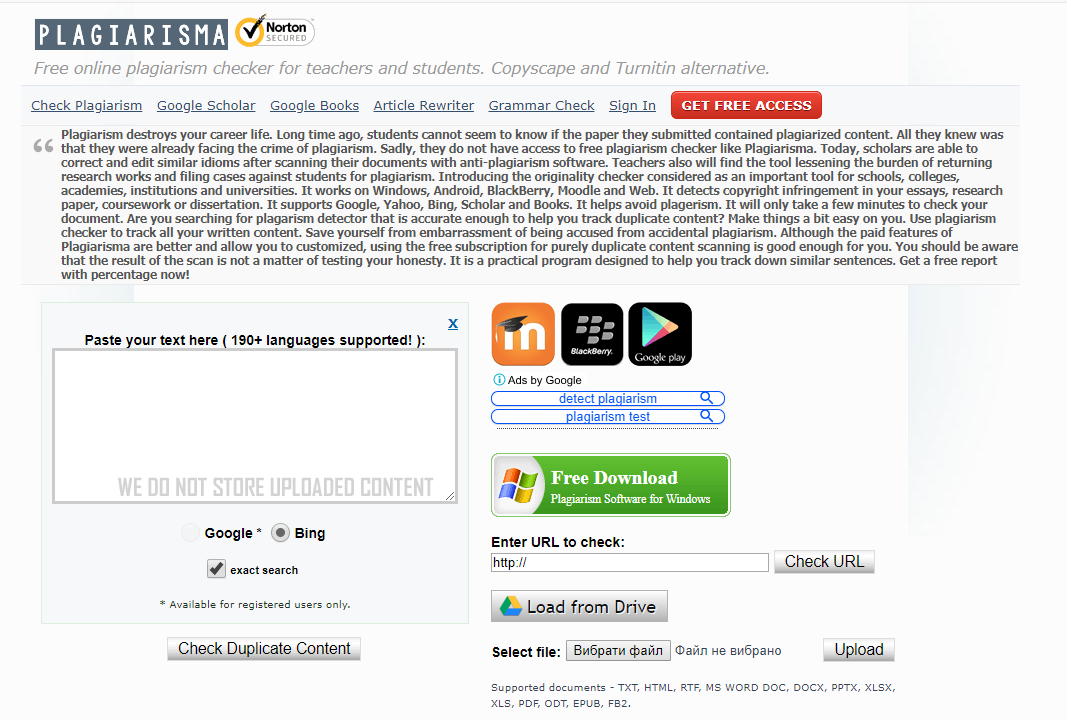 Word limit/ number of free checks: 2000 words, unlimited number of checks without signing up.
Sample text checking result: 90% unique.
---
PlagiarismChecker

http://www.plagiarismchecker.com/
This checker uses a different approach to detecting plagiarism, and this is probably more suitable for professors and journalists. You can't check the whole text here – you need to paste parts of sentences, no more than 32 words (limit of Google search query), and the checker will basically perform the same function as searching a certain phrase in Google using quotation marks.
Pros: Free unlimited checks without sign-up. Precise checking, you can leave your e-mail and get updates on the usage of specific phrases from your text and, therefore, monitor real-time whether someone copied your text.
Cons: Time-consuming, since you need to check every and each sentence in your text; more suitable for bloggers, journalists, etc. The webpage doesn't show the percentage of uniqueness, just redirects you to a Google page with results.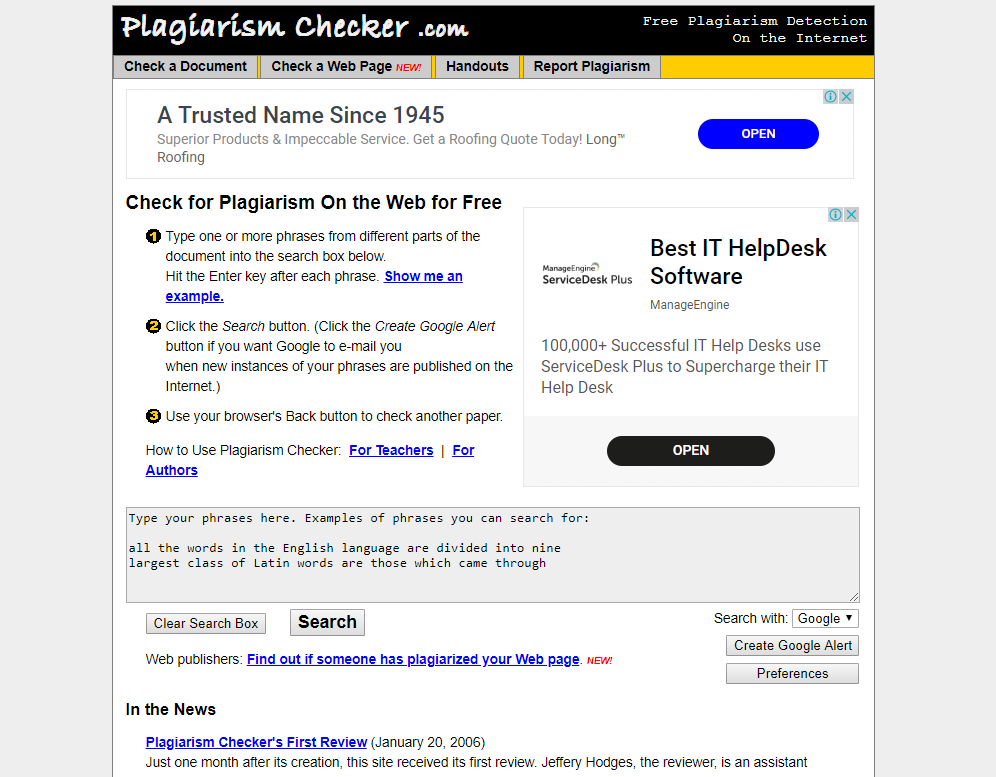 Word limit/ number of free checks: 32 words, unlimited checks.
---
The Plagiarism Checker

http://www.dustball.com/cs/plagiarism.checker/
This checker uses an algorithm similar to the second one – it picks up several phrases from the target text and, presumably, copy-pastes them in Google search. You can even download the report in pdf format, so, probably you can show it to your professor in case of some misunderstandings, or even send the report with your assignment, if this checker has been authorized by your educational institution.
Pros: Free and unlimited number of checks without required registration, no limits for word-count, fast and easy.
Cons: The checker doesn't show the overall uniqueness rate. It also has a premium version, which is said to be 3 times more effective – and that means that the free one is 3 times less effective. The checker uses an algorithm of search which may not be suitable for every purpose.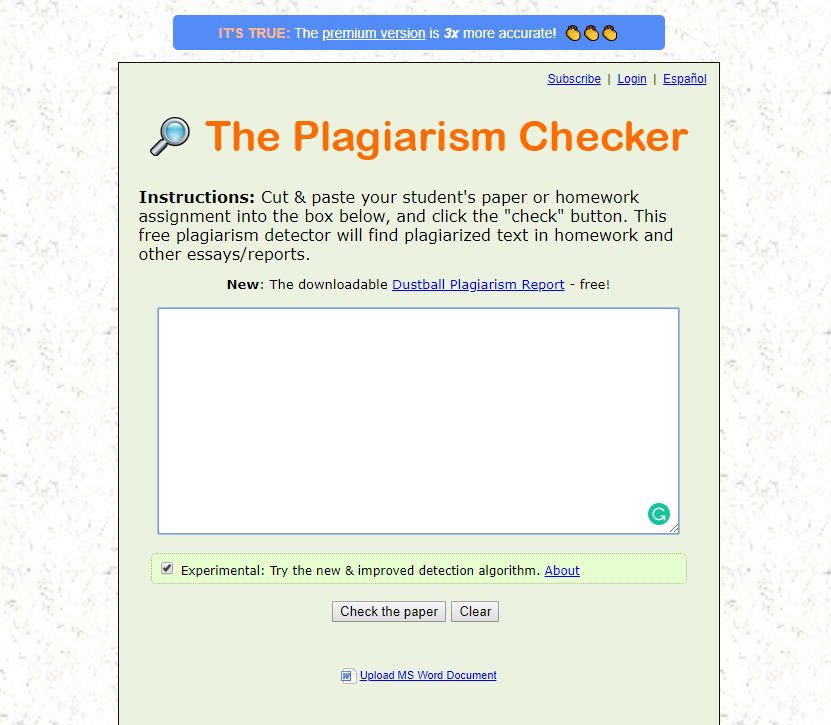 Word limit/ number of free checks: unlimited.
---
Quetext

http://www.quetext.com/
This one is a nicely designed plagiarism checker. If you feel panicked before pressing the "check" button, its nice design in blue and white colors will probably make you feel better.
Pros: Free checker with an unlimited number of checks. Deep and thorough text analysis. You can see the percentage of the text checked, as well as which sentence or phrase is being examined now. The checker has an easy and intuitively understandable design. The checker highlights not unique parts and provides links where the matches were found.
Cons: Analysis takes time, so this one is not suitable for emergency checks. We didn't manage to find any other drawbacks.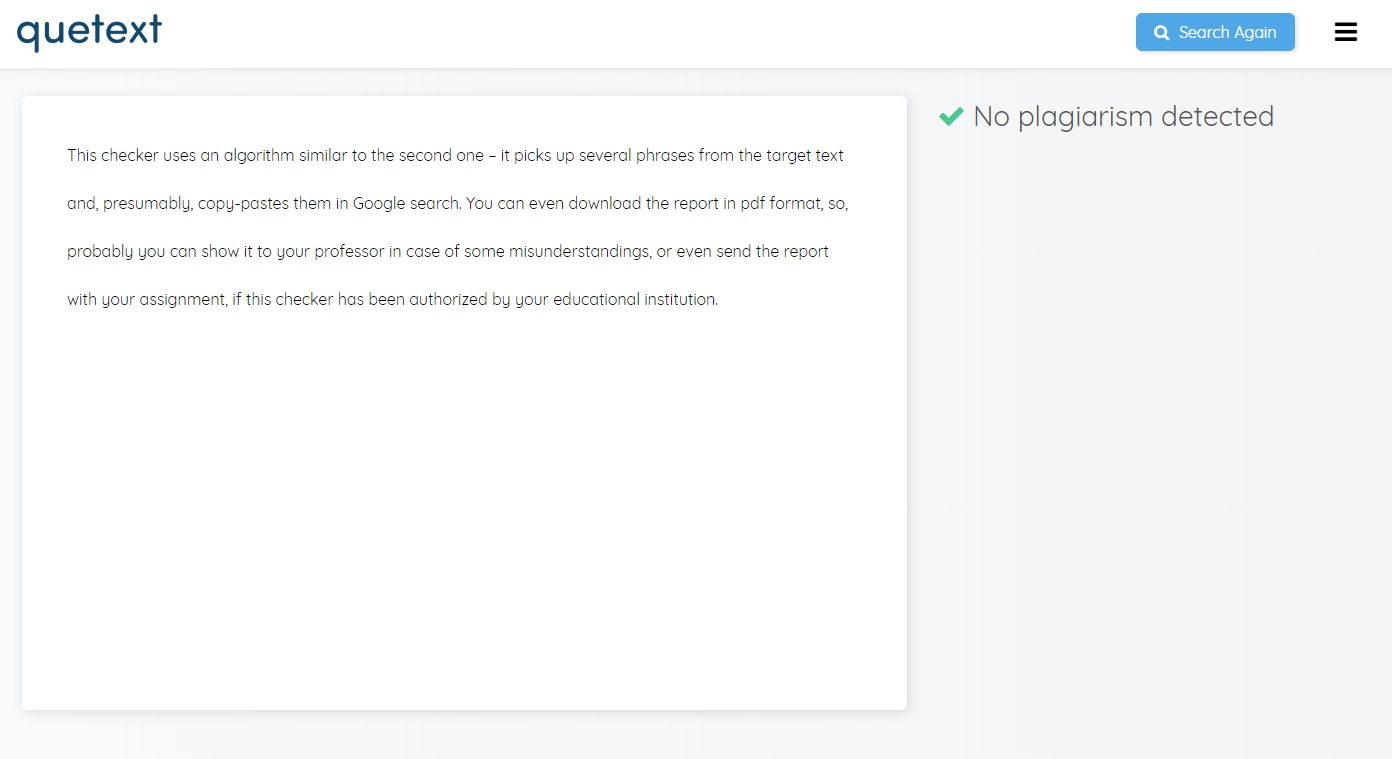 Word limit/ number of free checks: 20,000 characters is the limit for word count, the number of checks is unlimited.
Sample text checking result: no plagiarism was found, 100% unique.
---
PlagiarismCheck

https://plagiarismcheck.org/
If you want your checker to be both functional and beautiful, than PlagiarismCheck is definitely for you. It is also fast and intuitively understandable. As you can see on the website, the checker uses the latest algorithms of plagiarism detection. It focuses not only on direct copy-paste parts of the text, but also is able to detect more complicated cases, such as texts with reshuffled words, and even texts were rewritten in passive voice or using synonyms. In addition, we just loved the logo of the checker. Well, no one can prohibit you to be a hedonist, right? :)
Pros: latest algorithms of plagiarism detection which can register the most complicated cases. The story of checks is always available at your profile, and the design is cozy and clean. Your account is highly protected – they send you 8-characters password for the first login and ask to change it immediately.
Cons: Sign-up is required for free trial checks.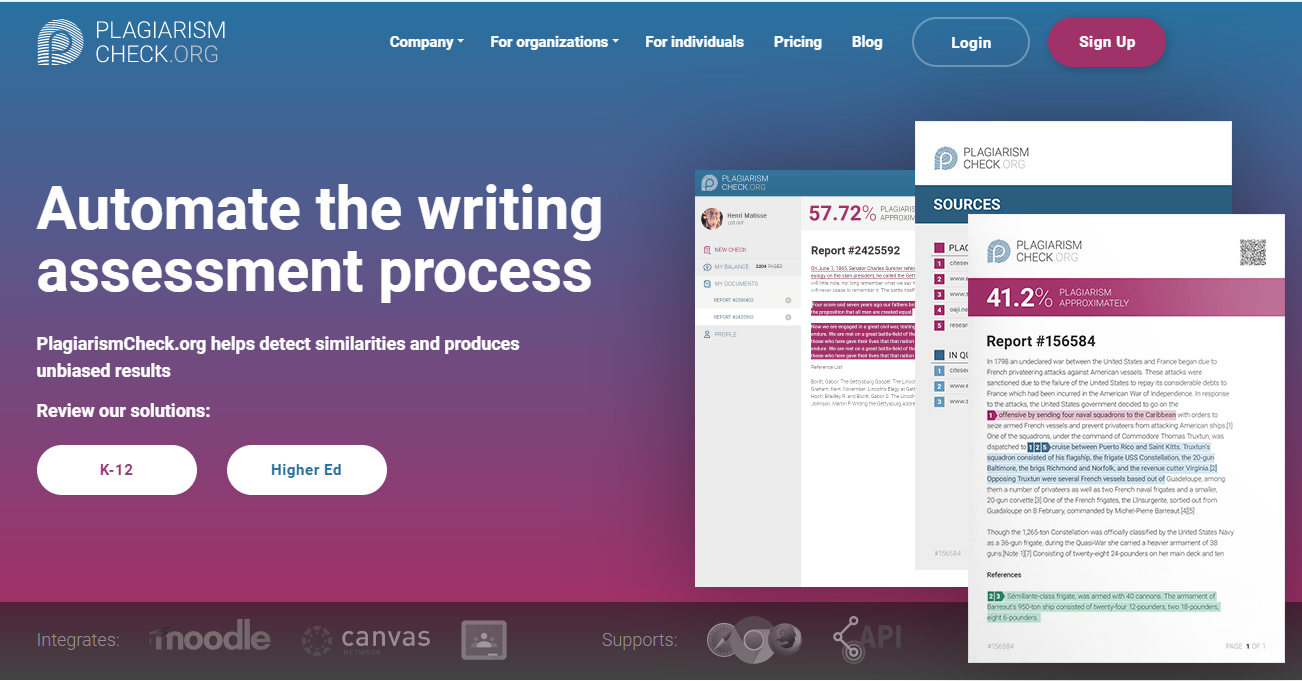 Word limit/ number of free checks: 3 pages of a free trial.
---
Note. We have checked the same text that we have received from college essay writing help in all plagiarism checkers to see their efficiency. To sum up, we are happy that checkers has identified it as original and non-plagiarized work.
Clever Alternative Ways to Use Your Checker
Before we tell you the two little tricks we've prepared, we wanted to warn you that you should use them at your own risk. We just share the wisdom, you know. :)
Use your checker to find more articles and books for your references list.
It's upsetting when you run a checker on your paper, and it highlights every second sentence in your paper, but you can actually make such a situation work for you. Check the links suggested by the website and look for the phrase that was marked as plagiarized. There's a high chance you will be taken to a page with an article or an online version of a book which will make great credible sources. Now the problem with the lack of sources on the references list is solved!
If you know any other language, use this knowledge to trick your checker.
Many modern checkers are capable of detecting paraphrasing and reshuffling of the words taken from the original source, but there's still a blank spot in their algorithms. Most of them are incapable of detecting a text translated from the other language. For example, you know Spanish and you have found a perfect article for your topic. If you translate into English, roughly any checker will identify this as plagiarism.
We hope this article was helpful to you, and now you will fear to check your paper no more.
P.S. We don't want to be tempting serpents and lure you into dishonest academic writing, so remember that these methods are for emergencies only.
P.P.S. While preparing this material, we checked 3 different articles to provide you with a gimps of each checker's accuracy. We should note, however, that a thorough examination of the uniqueness results and checkers accuracy requires a much bigger text database.
Written by Nicky Quinton