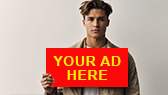 Advertise with us
Do you want to reach millions of people from all over the world? Would you like to do that while paying a much lower than average price? If your answer to these questions is YES!, then today is your lucky day!
If you want to reach potential customers you can use a conventional ad network (such as Google Adwords, Adbrite, etc), or you can advertise with us and get more value for much less money. One of the obvious reasons that make us more competitive is that by advertising with us, there will be no intermediary company syphoning off most of your budget. Every penny you spend on your campaign will go towards getting your ads shown on Multimedia-English. It's that simple.
WHAT WE OFFER
● SPONSORED POSTS
You can publish sponsored articles in our blog as long as we consider them to be helpful for our audience too, or you can sponsor one of our articles if available. Since conditions may vary a lot from one publisher to another, please contact us with your needs and we will arrange a price for that.
● TEXT LINKS
We have 4 positions for text links, either on the Home Page (header or footer) or on the rest of pages. Links can be dofollow or nofollow (cheaper). You can also insert a text link in a particular video page. Ask for more detailed information if you are interested in text links.
● BANNERS
We offer a banner space on every page of our website in both desktop and mobile phone versions. Desktop format is horizontal leaderbox (always premium placement, that is, visible above the fold).
We charge €0.75 per 1000 views. That means that you pay €0.75 for every 1000 times your ad is displayed, also called CPM= cost per thousand views. Or you can choose cost per click (CPC) for 0.30€ and only pay for the times users click on your ad and go to your site, so you don't risk people ignoring your ad and still having to pay for it. That's way cheaper than the usual price for ad platforms.
When you create your advertising account, you will choose to pay per views or pay per click. You can change this any time you want, so you can test and see which concept works better for your campaign, since every campaign may have a different best option and we want you to have the best possible deal. You are also free to set a daily spending limit, so your budget will always be under control.
You will have access to your own account on Multimedia-English for advertisers so that you can manage and monitor your advertising campaign in real time whenever you want.
You can have more than one ad so you can create variety and prevent regular users from becoming accustomed to, and so ignoring, your ads. You can also monitor every ad performance and remove the ads which are doing poorly, so your CTR remains as high as possible.
● PROMOTIONAL VIDEOS
We can post your promotional or commercial video on our website and also give it exposure through our Facebook page for only €100.

● OTHER WAYS
We can also offer other ways of promoting your product through our Facebook page (where we have almost 1 Million users!), or other ways that may suit your needs – contact us to arrange this.
Our users come from all over the world, so we are an ideal platform for advertisers aiming to reach people across the globe. Europe and North America are our top markets, together with South-East Asia, but we get visits from every corner of the world. Campaigns addressed to the general Spanish Speaking Community also work well on our website. (Ads designed for a specific country or language are less likely to be so successful, since we cannot segregate our advertising by country on our website, but we can do that on Facebook).

We accept payments through PayPal or credit card.
Contact us here for more information or to start your campaign as soon as possible.
---

TIPS: WHAT MAKES A SUCCESSFUL CAMPAIGN

A successful campaign depends on the product you are advertising (whether or not users find it interesting and relevant) and also, in banners, on the ad design (whether or not it catches their attention). But the most important thing is to advertise your product from a platform visited by users who will be potentially interested in your product. For example, if you are selling baby food, you want your ads to appear on a website talking about babies, because users visiting that site might find your product interesting. Baby food ads on a website about music for teenagers will almost certainly fail to attract much interest.
Advertising networks try to automatically find pages relevant for your product, but their robots can only do so much. If they find a page where the word "baby" is used several times, they will show your baby food ad there; but romantic lyrics use "baby" a lot, so your ad will also appear on thousands of pages with song lyrics including that word, and that would only deliver your ad to the wrong audience. That is why selecting a particular website relevant to your interest field will potentially get you a higher CTR and, therefore, many more clicks for your website for the same money.

But CTR is not the only thing you must consider. Branding is also very important, sometimes even more than getting clicks. A banner on our website is like an ad in a specialized magazine or on a city billboard - every time a user sees your ad, your company name and logo become increasingly more familiar and popular, so every ad view counts and contributes to your product visibility in the market. The beauty of this is that, for branding purposes, your campaign will always get a 100% ad per view success! This, in turn, increases your CTR profitability and at no additional cost.
Contact us here for more information or to start your campaign as soon as possible.
---
---