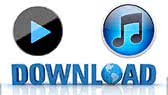 Download audio and video from this website
Some teachers want to use these videos in class but they don't have an internet connection there. Some students want to work with their videos in their MP4 player or mobile phones. Some leaners would like to listen to the audio from the videos over and over again, in their car, when going for a walk, while
waiting for the bus or at the doctor's waiting room, so they would need the mp3 audio track from the video. NOW IT'S EASY, here's how:
Go to this website: https://www.telechargerunevideo.com/en/
On the URL box, paste the url of the video page you want to download, for example:
http://www.multimedia-english.com/videos/esl/christmas-advert-monty-the-penguin-its-real-love-tom-odell-5890
Click on the "get download links" button. Then choose format and click on the "Generate download link" button. Then click on "Download" and you'll get the video ready, just right-click and choose "save video as".
If you also need the transcription and explanations, just get them using the PDF icon you can find above the transcription on M-E website pages. You'll get a PDF version of the page to print or download.