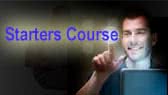 What is the Starters Course?
Starters is a survival course in American English designed to help people move from zero to an almost pre-intermediate level. It can be used in class with the help of a teacher, but it has also be designed for self-study.
(Click here to open the course)
It is made up of 365 videos (one for every day of the year), so the student can assimilate the content slowly but steadily.
Originally, it was produced to help immigrants who arrive into the United States with no knowledge of English at all and its only focus is to help them manage in normal everyday situations, so it is a very practical course.
For people with a higher level of English the resources bank Basic Real English is recommended (click here to open it)