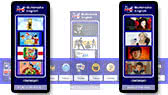 Our Widgets
A present for webmasters:
Our dynamic gadgets (or widgets) are a virtual window into Multimedia-English and now they're free! Every time someone opens your website they'll see a different selection of videos, so you are always offering new content to your users and you don't need to move a muscle! Plus, they are free and have no ads.
Example of horizontal widget:
We have different widgets with different content, all in two formats: horizontal and vertical. Choose the widget that best fits your page design, click on the link "see widget" to see the widget you chose, then copy the code and paste it on your website.
CHOOSE YOUR WIDGET
Example of vertical widget:
And our widget of links (coming also in vertical and horizontal formats)
If you want to link to our site, you may want to use one of our logos: get logo.