THE VOWEL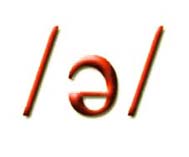 ---
This is the most frequent of all English vowels. It is the easiest sound of the language, since you don't have to do anything to pronounce it. Just relax your mouth, don't move anything, and let a little bit of air out pronouncing an unarticulated sound. But for languages which don't have this sound, relaxing your mouth completely while you speak may be quite difficult, so "practice" is the answer.
This sound is so short, so weak and so formless that for some foreigners it may be very difficult to hear. In fact, this sound very often disappears and it is not pronounced at all, especially in British English. For instance, the word POLICE may sound /pəli:s/ or simply /pli:s/.
A schwa comes from an unstressed syllable that got very weak, so today, a schwa can be written with any vowel or vowel combination, for example (schwa sound in blue):
the sun, important, station, festival, about, Peter


FINAL SCHWA

In BrE, a final schwa often opens and becomes a sound very similar to

teacher

The transcription for this word is /ti:tʃə/, but it sounds similar to /ti:tʃʌ/.
bigger

/bɪgə/ (pronounced /bɪgʌ/ )
This only happens when the schwa goes at the end. If we make a little pause or we stop talking, then the final schwa may open, but if we continue talking without a pause, then the schwa doesn't open and it still sounds like a very weak sound.
one teacher

pronounced /ti:tʃʌ/
two teachers

pronounced /ti:tʃəz/. (now the schwa is not at the end of the speech, so it doesn't open)
a teacher of maths

pronounced /ti:tʃər əv/ (again, it is not final, it doesn't open)
But remember that this is a change in pronunciation that is not shown in transcriptions, we may say /ti:tʃʌ/ but the correct phonetic transcription is always: /ti:tʃə/


PRONUNCIATION OF THE SCHWA
A BBC video explaining how to pronounce this vowel: THE SOUND SCHWA