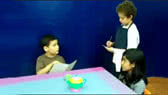 0:25

An easy role play with the most basic expressions. MORE RESTAURANT VIDEOS BELOW.
Script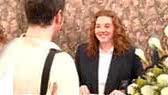 4:03

Reception desk. Asking about local information. MORE RELATED HOTEL VIDEOS BELOW.
Script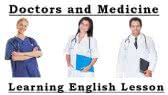 15:29

Learn the basic vocabulary and expressions you need to know when visiting a doctor or talking about illness. MORE RELATED DOCTOR'S VIDEOS BELOW.
Script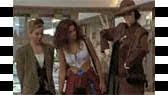 Learn expressions to use at the shops. MORE RELATED SHOPPING VIDEOS BELOW.
Subtitles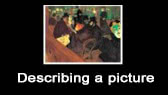 5:49

Learn how to describe a picture in English. In this lesson you will find how to name the parts of a picture, how to explain what you can see, what is happening, and many examples of picture description. LOOK AT THE RELATED VIDEOS BAND FOR MORE (click on the 4 blue balls). On this video you will see the different parts of a picture so you can say where everything is: in the foreground, on the left side (also "on the left-hand side), etc. Also, you will learn how to talk about where people/things are and what they are doing.
Subtitles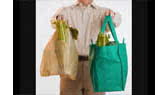 0:43

Learn expressions to use when buying food. MORE RELATED VIDEOS BELOW.
Nothing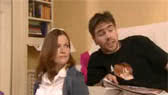 Situations on this lesson: talking about a neighbour, giving opinions, at the travel agent's, at the airport, asking for assistance, phone calls, formal phone calls, making plans (you'll see them on the realted videos below). This video here shows how to organize a weekend. with subtitles. YOU CAN FIND more situations in the videos below. YOU CAN ALSO FIND more situations under the ETC tab.
Script